System Options
System Options (or System Settings) are global settings that affect all users in your Axosoft account. To access your System Options, navigate to Tools System Options.
---
General System Options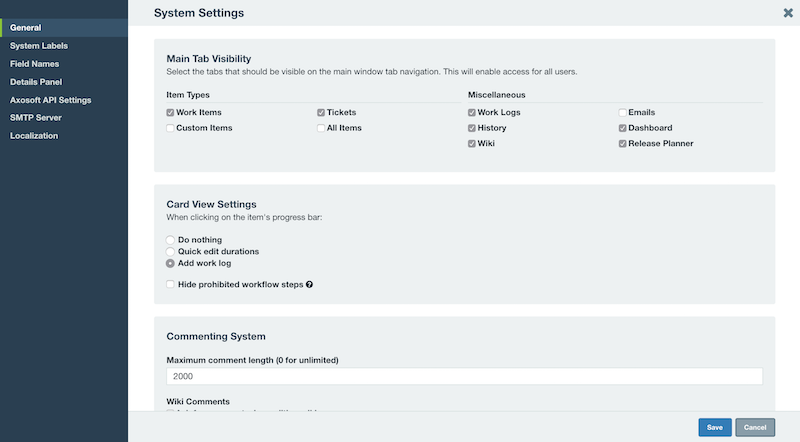 Main Tab Visibility
When you check any box here, you enable users to add this tab if their security role permits. This is where you can enable non item type tabs such as Work Logs, History, and Emails. The available item type tabs are directly tied to your Axosoft subscription type. For example, the "Tickets" type is only available with the Help Desk and Wiki module.
Card View Settings
There is a progress bar that appears on all cards in card view. You can configure whether clicking this progress bar prompts a work log, quick edit duration, or choose for nothing to happen.
The option to "Hide prohibited workflow steps" is tied to the Allowed Next Steps settings you have set for each workflow step. If this box is enabled, Axosoft will hide any disallowed workflow step columns from view in the Card View. This will hide or show workflow step columns as you move items through your workflow based on your Allowed Next Steps configuration.
Commenting System
Decide the maximum comment length here and set whether to prompt or require comments when editing a wiki page.
Detail View Settings
All text fields have a Stamp option in the word processor toolbar. You can set whether the HTML stamp starts at the top of the text box or at the bottom of the text box.
Work Log Settings
When you log a work log, a progress bar appears towards the bottom showing how much estimated time is remaining. You have the option to disable remaining estimate updates from the work logs.
Work logs will get copied along with other item data when duplicating items.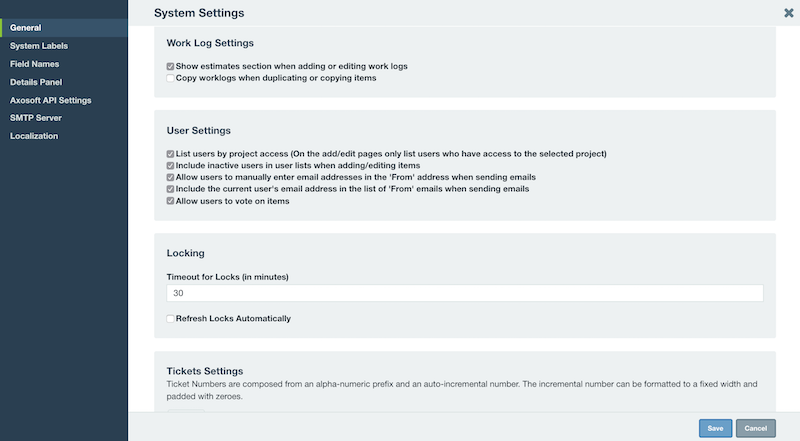 User List Settings
List users by project access (On the add/edit pages only list users who have access to the selected project)

All users have security roles which may limit what projects they may access. The option to "List users by project access" will restrict the users list to only show users who have permission to access that project folder. User who don't have access to the project cannot be assigned items.
Include inactive users in user lists when adding/editing items

You may set whether inactive users appear in your users list.

Allow users to manually enter email addresses in the 'From' address when sending emails

If disabled, then the from address will default to the email address it was sent to.
If using a different 'From' address, it needs to be an allowed address on your SMTP server for optimal performance.

Include the current user's email address in the list of 'From' emails when sending emails

Decide if you wish for users to decide between sending as themselves or as the email address the original message was sent to.

Allow users to vote on items

With this enabled, 5 star voting will be available for all items in the upper corner of Edit or View mode. Aggregate the vote count and the vote average by adding these grid columns to your list view.
Locking
An item is locked when a user opens an item in Edit mode. Sometimes users forget to close their window and leave items open and locked, so you have the option to set how long before a lock expires.
Uncheck Refresh Locks Automatically to enable the set Timeout for Locks.
If the Refresh Lock Automatically is checked, items will only unlock if the user currently editing an item finishes their session or if the item is unlocked by Axosoft Administrators who navigate to Tools Utilities Lock Manger
Ticket Settings
These settings are only available for the Tickets or Incidents item type. This section allows you to tailor the number prefix, set the max number of digits including the zero padding, and you may review the next number in the sequence.
---
System Labels
The different Item Type and Project labels in Axosoft may be renamed. Renamed fields will have the original label underneath. If you have renamed an item type but wish to revert it back to its default name, click "click to reset" to restore the name to its original form.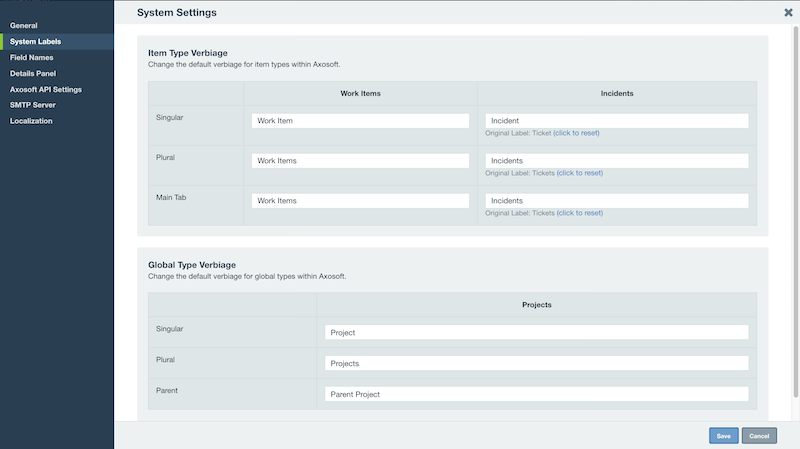 ---
Field Names
Many existing fields in Axosoft may be renamed from this Field Names section. Renamed fields will have the original label underneath. Like with System Labels, if you have renamed a field but wish to revert it back to its default name then click "click to reset" to restore the name to its original form.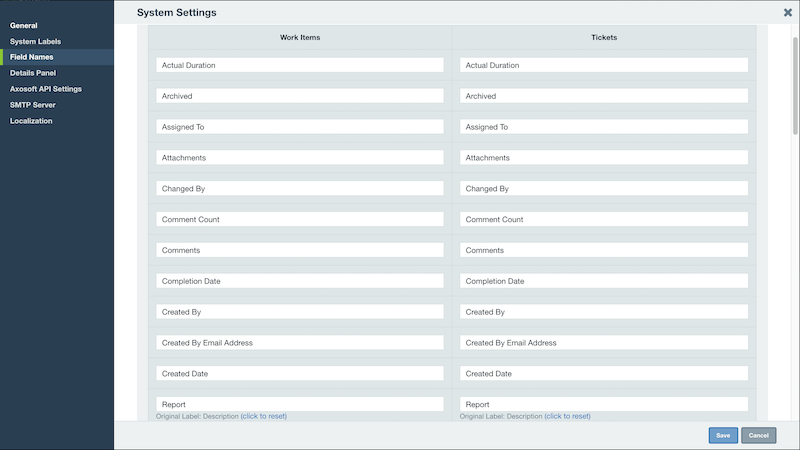 ---
Details Panel
The Details Panel is the panel located on the right side of Axosoft. It gives you a brief synopsis of the selected item in the grid or card view. Access this menu to enable or disable fields available for display in the Details Panel.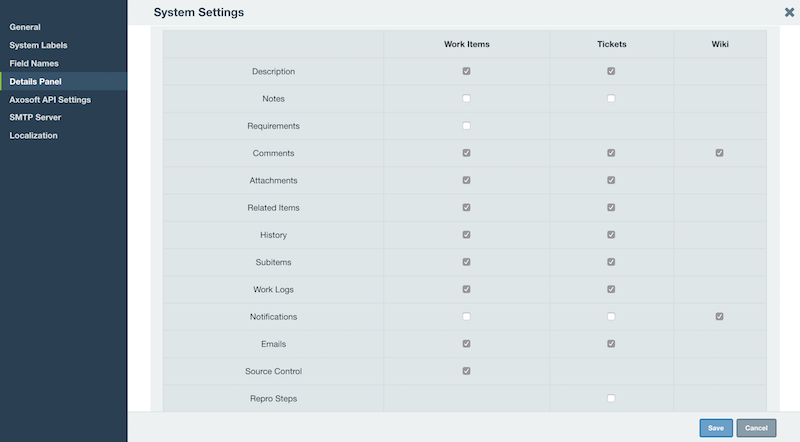 ---
Axosoft API Settings
Axosoft has the ability to communicate with external applications via the Axosoft API. To allow this communication, you will need to first enable the API from this section. This is where you can manage all Axosoft API keys and tokens as well.

---
SMTP Server
The SMTP Server governs your outgoing mail and notifications from Axosoft. If you are a hosted customer, Axosoft will default to using the Axosoft SMTP server (recommended). However if you need to set different allowed "from addresses," then you may use your own custom SMTP server. Please be advised that you will be responsible for maintaining your custom SMTP server.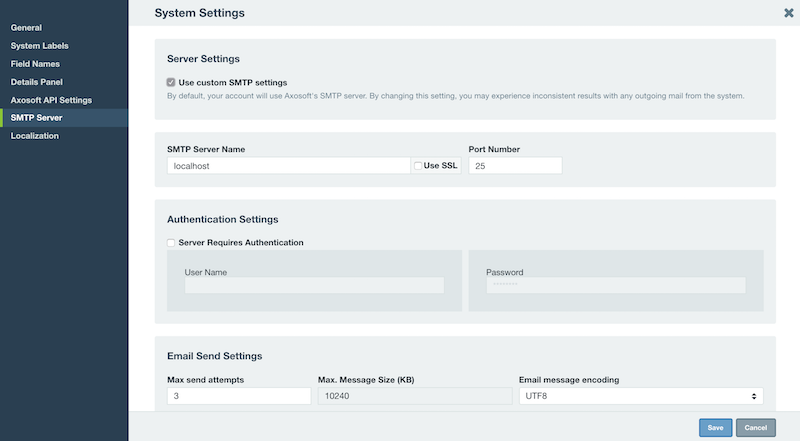 ---
Localization
The Localization section allows you to globally set the timezone for your account; limited to only one selection. Additionally, you can set the default Culture Settings for your account, which allows you to set the language and other cultural settings to English, Spanish, German, or French.