List View and Card View
The Axosoft interface is extremely flexible and customizable in order to display all the information that you want. The default view is the List View, which allows you to see all the information in a spreadsheet-like display. Card View is where you can view the same items as blocks that you can drag and drop to rearrange and move along the workflow.
---
Switching between List View and Card View
To switch between views, just click the desired option in the workspace toolbar.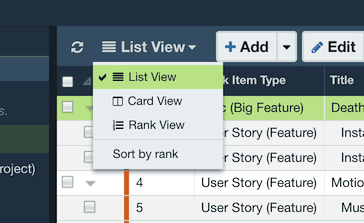 ---
List View features
Rearrange columns by dragging and dropping column headers
Resize columns by dragging column header edges
Sort columns by clicking on column headers (or use multiple sort conditions using right click)
Enable grouping by right-clicking a column header and select Group By to group items into different categories
In-line editing: Right-click any cell in the list view to edit the selected field

List fields will have the option to edit from a context menu

Add or remove columns from list view in the gear menu in the upper right, as shown below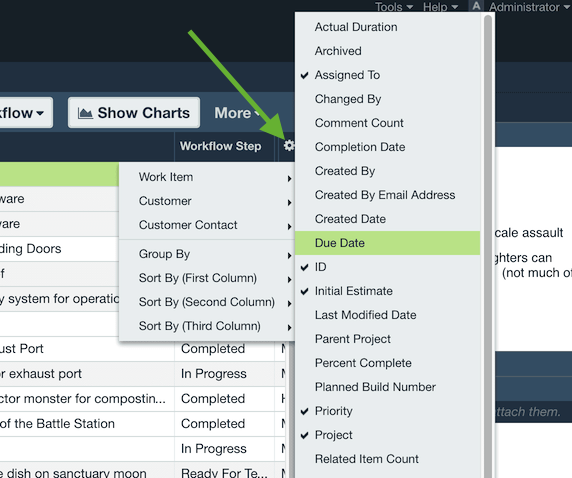 ---
Card View features
Sort and group cards using the gear menu in the upper right, as shown below
In-line editing: right-click a field on a card to edit it
View parents and subitems by clicking on their tabs
Add work logs by clicking on the Duration bar at the bottom of the card
Customize fields visible on cards using the gear menu in the upper right
View work-in-process (WIP) limits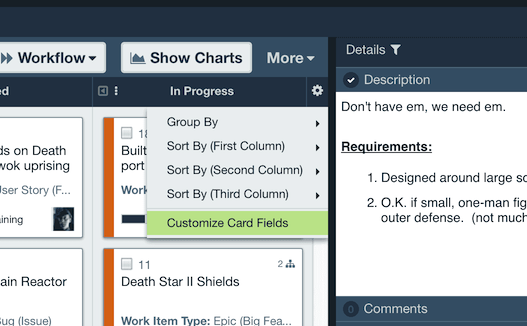 ---
Workflow step columns
In the Card View, you can display columns for each workflow step to organize items and to easily drag and drop between workflow steps. This is commonly used by Kanban teams to show items' progress.
Note: To create a subitem while in Card View, select the parent item and use the Subitems pane in the Details Panel. Drag and drop in this view is restricted to workflow progress.
Workflow steps not accessible for users through Allowed Next Steps can be hidden by selecting the option for Hide prohibited workflow steps in Tools System Options General
By default hiding prohibited workflow steps within the card view is disabled. Workflow step columns can also be hidden from the view by toggling the collapse icon.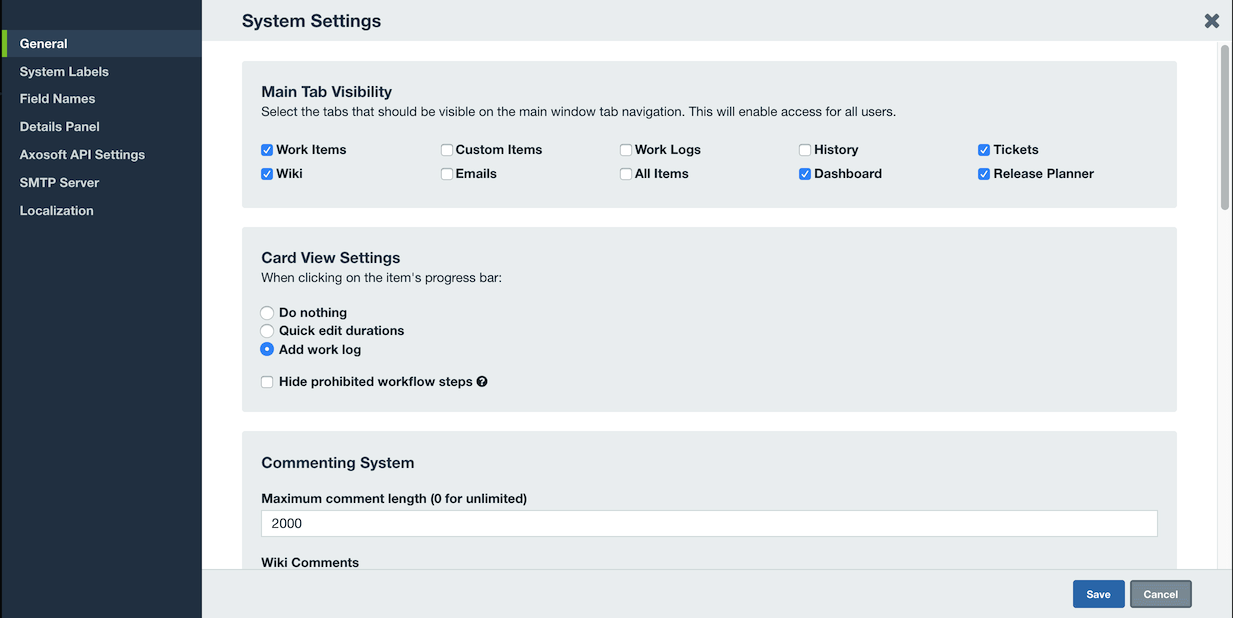 ---
Edit workflow steps in Card View
A convenient way to edit workflow step properties when using the Card View is to right-click on the workflow step column header and select Edit Workflow Step. Here WIP Limits can also be edited.
For further configuration look at Managing Workflow.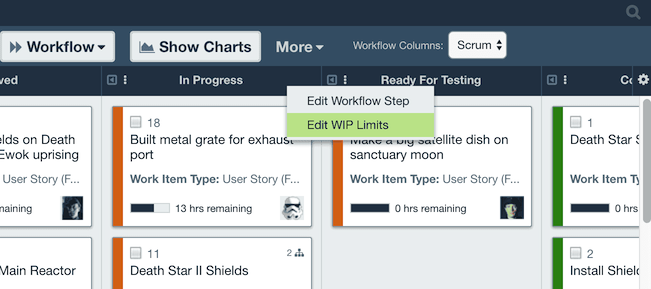 Tip: If WIP limits are enabled, their status will also be shown next to each applicable workflow step.