Managing Emails
Inbound emails will always get appended to a new or existing item. Learn how to read and reply to these emails to continue conversations while staying organized.
---
The Email pane
In the Emails pane in the Details Panel, you can view all emails associated with a selected item. You can double-click to view the email, reply to an email, or click the New button to compose a new email for the item.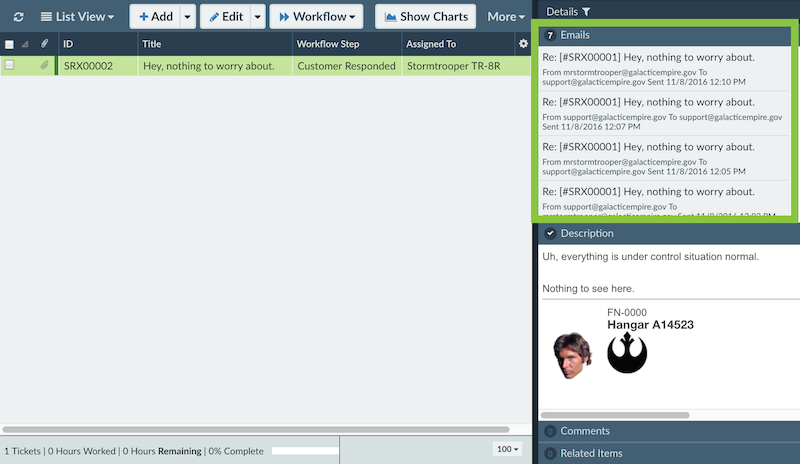 Under More you can also enable Open Emails in a New Window, allowing you to continue to work in Axosoft while reading or writing an email.
---
Email preview
You can also dock the Emails pane at the bottom of the grid, giving you more room to view emails as a grid as well as show a preview of the selected email.

---
Sending emails
Whenever writing emails regarding an item, Axosoft will add an item ID tag like [SRX00000] in the subject line. This gives the customer the item ID for reference, and Axosoft uses this tag to append replies to the existing ticket.
Because Axosoft relies heavily on this tagging system, do not remove or modify the tag with the item ID in the subject line.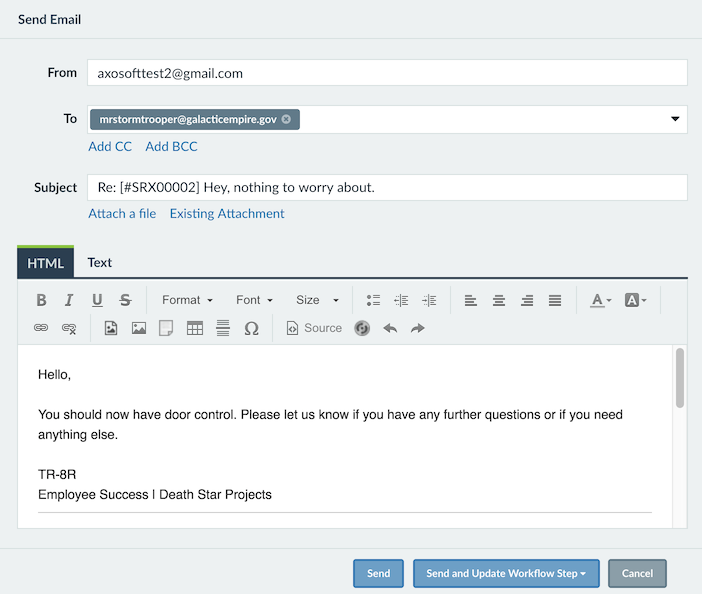 Note: The From address will be automatically populated with the email address that you are using to import emails into Axosoft for this item type. We recommend using this option as it will ensure that any replies to the email will also be imported into Axosoft and appended to the associated item.
Use the paperclip icon in the toolbar and select or drag and drop the file to add any image attachments to the body of the email.
To add non-image attachments, click Attach a file below the subject. You can also include any attachments already associated with the item by clicking Existing Attachment.
Note: Whenever writing an email for an item, Axosoft will place a lock on the item so other users cannot edit the item. This is done so you do not have multiple users responding to the same customer.
---
Emails Workspace Tab
Use the Emails workspace tab to read individual item emails across different projects.
Messages can be filtered by date ranges, email type, and user, all in an organizable grid. Like all workspace grids, Emails supports search on the To, From, Subject, and Body fields of the messages.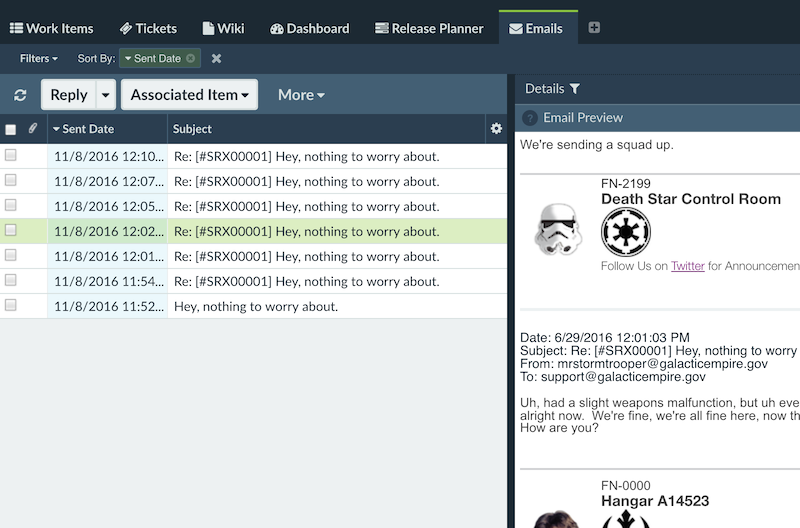 If you do not have the Emails workspace tab already in your view, you can add it using the plus icon on the tab bar. If Emails does not show, make sure it is enabled in System Options for Main Tab Visibility.