Viewing Reports
Axosoft is delivered with built-in report generation and viewing powered by ActiveReports.
There are specific reports for All Items, Defects, Features, Tickets, Tasks, Projects, and Work Logs. These reports can be either viewed directly from Axosoft or saved to be viewed later using a program like Adobe Acrobat.
---
Running an Axosoft report
Reports can be run to provide information regarding the data currently in Axosoft. By default, the built-in reports automatically filter based on currently selected filter and project, search criteria, and sort on columns.
To run a report for any of the item type tabs or Work Logs, select the desired shortcut under More Reports in the workspace toolbar. Axosoft will then generate the report.
---
Running a Project report
To run a report for projects, select the More dropdown on the Projects pane in the Organize panel then click the desired report shortcut under Reports.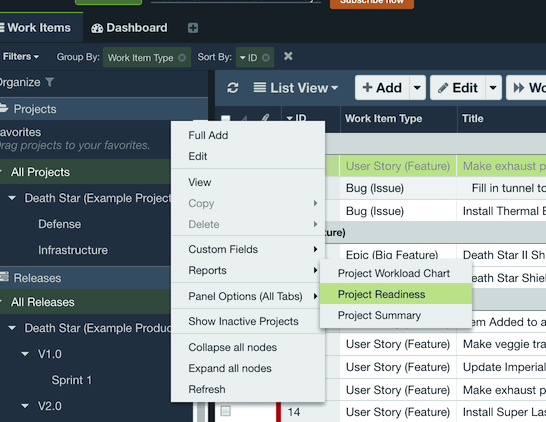 ---
Viewing reports in the Axosoft Report Manager
The Axosoft Report Manager is a Windows-only tool that allows you to customize your reports further. When the Report Manager is launched, all of the built-in and custom reports of your Axosoft system will be displayed.
The same report shortcuts will also be displayed in the Report Manager separated by their type and relative reports.