Tabs
Our workspace tabs are a powerful way to control the look and feel of your Axosoft environment through tabs. Individual tabs save a series of attributes about your screen that you can recall instantly. Tabs can also be made either public or private for visibility to other users of the team.

---
Adding tabs
You can add additional tabs to your view by clicking the Plus button on the tabs bar. Then select from any of the default built-in tabs, other custom tabs that you created and publicly saved tabs.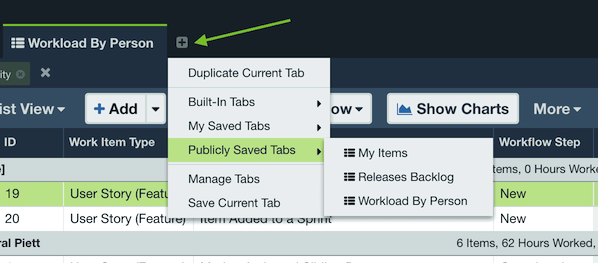 Saving tabs
When you have the workspace in Axosoft and options set in a certain way that you would like to come back to later, you can right click the current tab and then click Save Current Tab.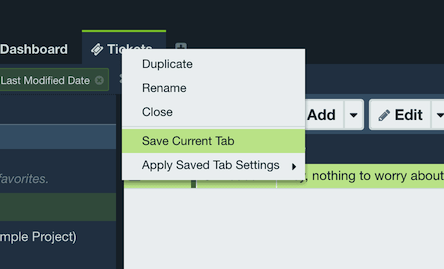 Once you are in the Save Current Tab screen, select which Tab Settings of your tab you would want to save, like the columns which are currently being displayed, applied filters, color coding, grouping, as well as Card View options.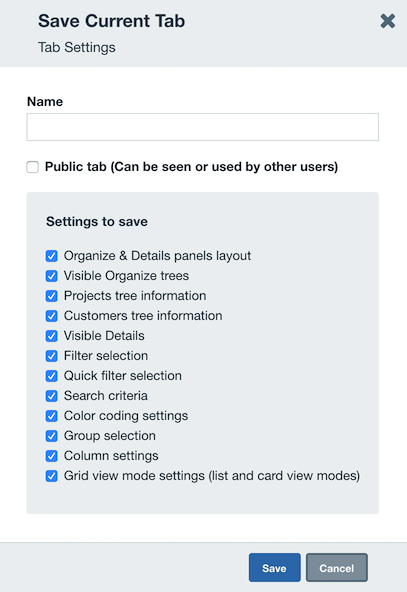 Note: You can have multiple tabs of the same type, each of which can have their own settings for Organize and Details Panels, along with filters, grouping, search and sort applied on items.

---
Saved tabs
Once saved, your settings are available to apply to your current tabs in Axosoft or in creating new tabs. When you select the tab, your workspace will then appear in the same way with the specified options applied.
If you would want to update the tab settings in the future, just make any changes to your Axosoft interface that you would want to include, and then save the tab using the same name as before as it appears in the list.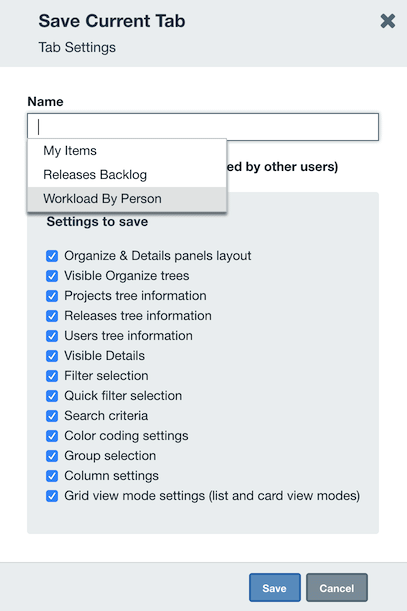 If there are no saved settings for the currently selected tab type, there will be no settings available to apply. First save a tab and its settings before applying it to a present tab.
---
Tab options
There are options in the context menu of tabs for quick updates available by right clicking the tab.
Tip: Double click tabs for quick renaming.
Closing tabs
Through the context menu you can select Close which will remove the tab. Axosoft will then prompt for confirmation of the tab deletion.
If tab settings are saved on your user account, you can always restore a new tab with the same look.
Notice: For customers coming from older versions of Axosoft, the Organize Panel has been updated to not enforce your Projects, Releases, Users, or Customer selection from tab to tab. Instead, your saved workspace view will take priority.